Casper's Ambassadors of Song
Melodies & Memories Summer Sing Choir Camp
July 31st – August 3rd
9:00am-12:00pm
Cost is $120 (Scholarships Available)
Ages: Students entering 4th-9th grade
Registration: https://bit.ly/ChoraleChoirCamp
Limited to 50 singers
Registration closes July 20th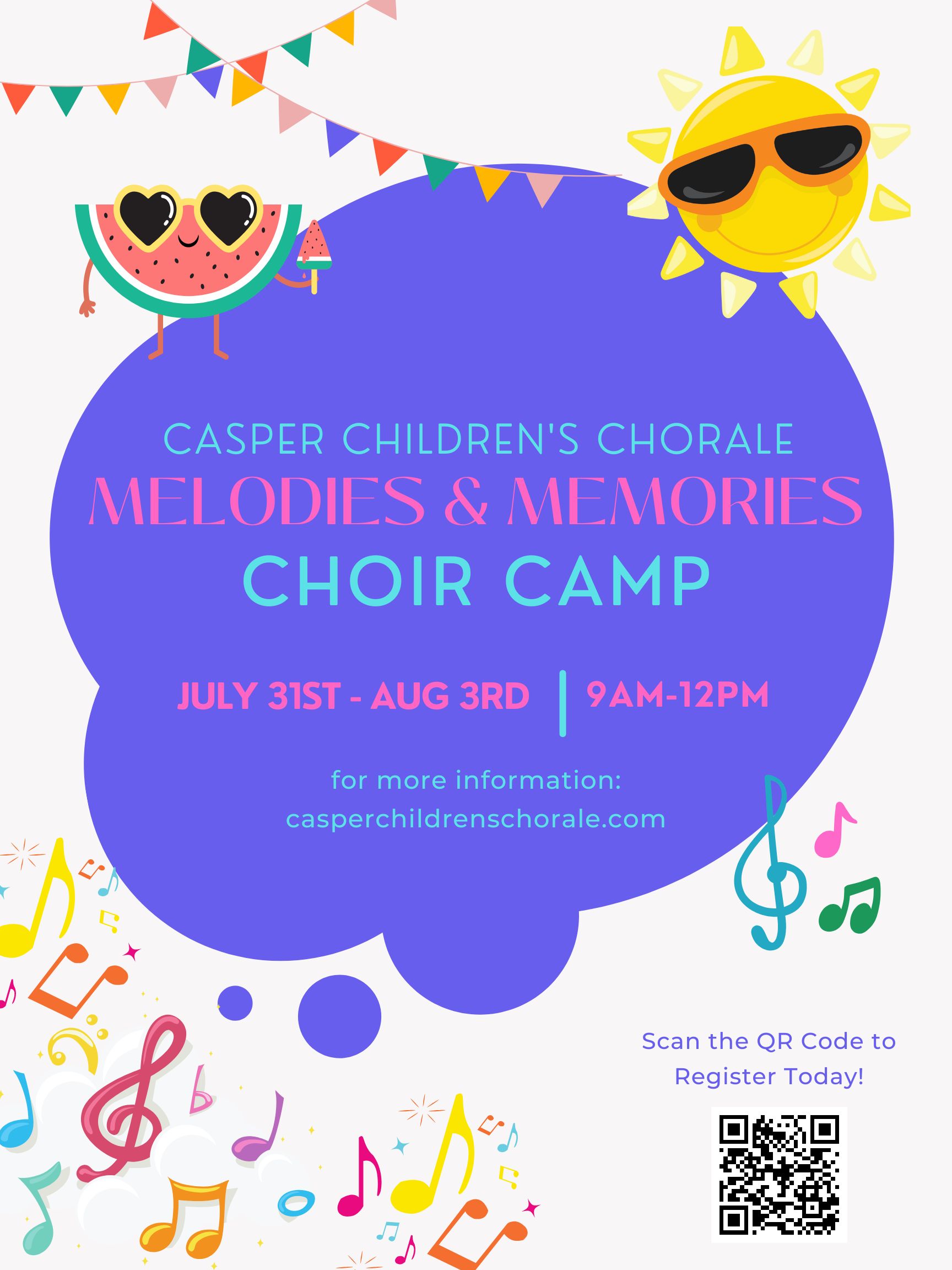 Since 1979, the Casper Children's Chorale has provided a positive and challenging choral experience for young singers in fourth through eighth grades. It was founded by Marcia Patton, a music educator and choral conductor with many awards and accomplishments, who believed that children would thrive in an inclusive musical community immersed in culture and the arts, in a program encouraging performance skills through diverse languages, musical styles, movement, and world rhythms.  Children from every background are given a foundation in music as a discipline that develops the mind, builds character, opens the world around them, and sustains the spirit.  And, it is FUN!
Over the past 42 years, the Casper Children's Chorale has toured across Wyoming as well as Billings, Boise, Bozeman, Chicago, Colorado Springs, Denver, Los Angeles, Orlando, Portland, Rapid City, Salt Lake City, Seattle, San Antonio, Spokane, Philadelphia, New York City, Washington, DC, and Vancouver, BC, sharing their love of music and their pride in Wyoming.  In spring of 2019, celebrating their 40th year, they performed for the opening of the Wyoming Music Educators Convention then traveled to Texas for a Heritage Music Festival where they won a Gold Award, the Adjudicator's Award, AND all three judges awarded them the singular Outstanding Choir Award!  In March of 2020 they were selected to perform for the Northwest American Choral Directors Conference in Spokane, WA.   Just this March, of 2021, they opened the National Conference of ACDA with a virtual performance.
Due to the pandemic, last season's performances were limited.  However we will had a two day Choral Retreat in Casper in April, complete with singing, activities, food, and community service projects.  We hope to be back to our normal schedule this fall, and encourage potential singers to visit our "How to Join" page!
Learn About Us
See where we started, how to join, and much more.
Our Events
Find out when our performances are and when we practice.
Give Support
Provide opportunities to fuel the singers' creativity and artistry.
Casper Children's Chorale
P.O. Box 1622
Casper, WY 82602
Email
cccsings307@gmail.com
Connect